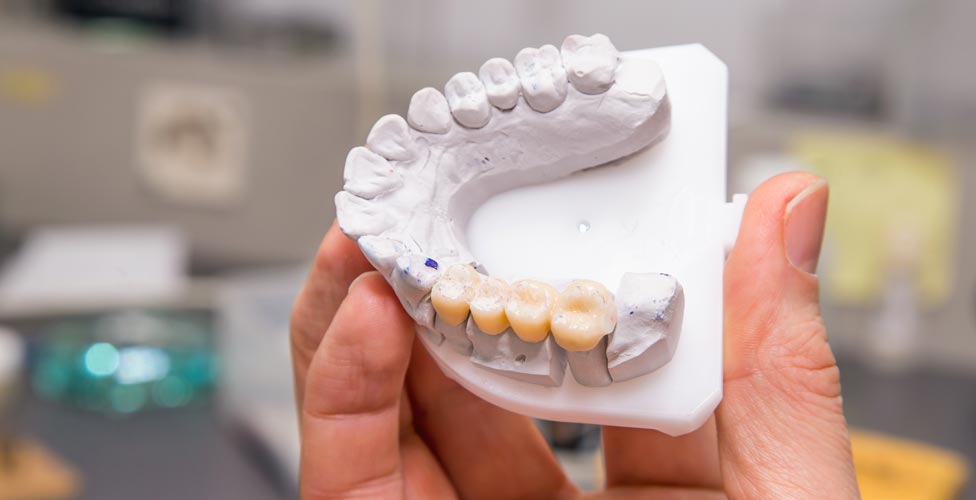 Crowns
Dental crowns are used to completely restore a tooth that has been damaged or is misshapen. The crown covers the tooth entirely to provide a new, synthetic tooth that is blended to match your smile perfectly.
Crowns can be made of a variety of materials to suit your budget and your aesthetic needs.
How long does it take to get a crown?
We usually place crowns in two appointments. In the first appointment, we'll prepare the tooth to be restored and take impressions of your mouth to assist in the design of the crown. The impressions will be sent to a dental lab where the crown will be produced. We may provide you with a temporary crown to wear while your permanent crown is being prepared.
Bridges
For teeth that have been completely removed, we may recommend a dental bridge as a restoration. Bridges consist of a replacement tooth that is attached to the teeth on either side of the gap left by the missing tooth. Bridges can also be used to replace multiple missing teeth in a row.
Bridges can be supported by dental crowns placed over the adjacent teeth, dental implants, or other attachments depending on your specific needs.
Call us today to make an appointment to restore your smile!
Related Videos